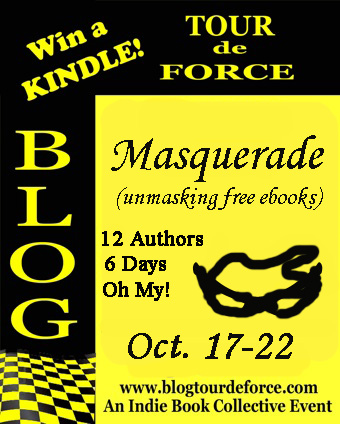 Thank you for sticking around our Masquerade Party. It's been an adventure hasn't it? Have you guessed the last 6 others correctly? If you have, #ssh , don't tell. The big reveal is coming soon.
But first we have 6 more Masquerade-ers. Six more blogs filled with goodies plus the BIG REVEAL.
Which author will have the most correct guesses? Who doesn't know how to hide? You know, the one that's always found first during Hide & Seek?
Thanks for all the love you've been giving us on Twitter and Facebook, and Blog love…we're overwhelmed with joy! We can't thank you enough.
Now on to the good stuff…Today's featured blogs.
Elena Gray: The Widowmaker
http://elenagray.com/
Jeremey Rodden: Toonopolis
http://www.toonopolis.com/
Remember, each commenter gets a #FREE copy of the author's book AND entry into their special give-away. That's 12 free books!
On top of that, each commenter will be placed in the Blog Tour de Force's KINDLE giveaway! It's doesn't get much more awesome than that.
Stay tuned for more authors, stops and free ebooks tomorrow!
The IBC Blog is "home base" so if you get caught up in the fun and lose direction, just head there where all the authors and stops are listed each day.