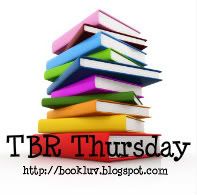 This meme was based off TBR Thursday orginally hosted by Book Love Blog where they announce the books in all forms and from all sources that they received/bought/picked up to read. I didn't see a reason to change a good thing, so here is my version! Leave a link to your TBR in comments...
"Sounds of Murder" tells a tale of academic intrigue and death. At Grace University, a small southern college, no one in the Psychology Department likes Charlotte Clark, so no one is particularly upset when she is found murdered in the department's million-dollar computer lab. But because she discovered the body, Associate Professor Pamela Barnes feels obligated to find Charlotte's killer. When she discovers a recording of the murder that was accidentally produced during Charlotte's struggle with the killer, she begins her own investigation. Along the way, Pamela agonizes with her own conscience as she fights her growing fear. She attempts to understand her mysterious Department Chair, keep her curious colleagues informed, placate her protective husband, and avoid antagonizing a local rube detective who belittles her efforts--all while she struggles to make sense of the sounds on the recording. As she gets deeper and deeper into her analysis—trying to connect what she hears in the recording with sounds from people (and potential killers) around her--she gets closer and closer to the killer. However, the killer is observing Pamela's efforts and resolving to stop her.
A woman of science.
A man of magic.
Hunted for their HeartsBlood.

Blood Magic.

Drawn into a world beyond her
comprehension and control, Dr. Salista Calon
must choose between science and magic.
Between her mind and her heart.

HeartsBlood...
A love taken to its dangerous conclusion
A dangerous cult has recently taken over the desert ghost town of Paradise, Arizona. Members worship at the feet--and in the bed--of its charismatic leader, Ethan Wycliff, and obey his orders blindly. They've already tried to murder one woman and they're implicated in the disappearance of another.
Nate Ferrentino, who works for private security contractor Department 6, has been assigned to infiltrate this group. It's a challenge he welcomes--until he learns that colleague Rachel Jessop will be going undercover with him. Thanks to their shared history, he'd much rather go alone....
The problem is, only married couples can participate in cult rituals. So, like it or not--and they don't--Rachel and Nate must pretend to be husband and wife. There's no choice. Because if Wycliff isn't exposed, if he isn't stopped, more people will die. And Rachel might be one of them.
In Banks's sexy ninth Vampire Huntress novel (after The Wicked), the first seal has been broken and Armageddon has begun. Lilith and her husband, the Unnamed One, are caught unawares while awaiting the birth of their angel-hybrid heir. Installed as Vampire Council chairwoman, Lilith calls on vampires, witches and warlocks (including Machiavelli, Jezebel, Genghis Khan and Medusa) to combat the forces of the Covenant, the Guardians, the Neterus and both Neteru Councils. She attacks her enemies Damali and Carlos Rivera where it hurts the most: their libidos. Soon the battle involves a Valkyrie, the Ark of the Covenant and bootleg music downloads. This end of days scenario is a wild amalgam of Christianity, vampire lore, world myth, functional morality, street philosophy and hot sex.