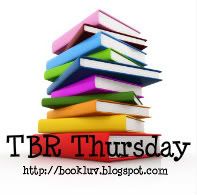 This meme was based off TBR Thursday orginally hosted by Book Love Blog where they announce the books in all forms and from all sources that they received/bought/picked up to read. I didn't see a reason to change a good thing, so here is my version! Leave a link to your TBR in comments...
So what if he's a bit older and usually regards a human female as dinner, not a dinner date? Yes, Roman Draganesti is a vampire, but a vampire who lost one of his fangs sinking his teeth into something he shouldn't have. Now he has one night to find a dentist before his natural healing abilities close the wound, leaving him a lop–sided eater for all eternity.
Things aren't going well for Shanna Whelan either...After witnessing a gruesome murder by the Russian mafia, she's next on their hit list. And her career as a dentist appears to be on a downward spiral because she's afraid of blood. When Roman rescues her from an assassination attempt, she wonders if she's found the one man who can keep her alive. Though the attraction between them is immediate and hot, can Shanna conquer her fear of blood to fix Roman's fang? And if she does, what will prevent Roman from using his fangs on her...
In this police procedural, Detectives Nicole Usher and Ruben Torres must work with FBI profiler Kent Harbinger, recently released from a mental institution, to catch a serial killer targeting brunettes and claiming a gruesome trophy . Usher and Harbinger have a past together which interferes in their working relationship as well as the stalled relationship between partners Usher and Torres.
After the storm, Julian Fortier, a successful trumpeter, returns to look for his missing father and ends up dealing with drama: family land is threatened by developers; a past betrayal is dredged up; he's confronted with a failed romance. Amidst all this he navigates his devastated city, confronting the emotional and professional mess of his life both present and past and the more immediate problems left by the storm.
Hope you see something that interests you! Now I'm going to read... Smooches!