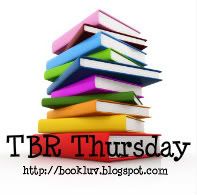 This meme was based off TBR Thursday orginally hosted by Book Love Blog where they announce the books in all forms and from all sources that they received/bought/picked up to read. I didn't see a reason to change a good thing, so here is my version! Leave a link to your TBR in comments...
Surrender The Dark
by L.A. Banks
Celeste Jackson has fought all her life against a fog of hallucination and substance abuse, but it's not until she meets her protector, Azrael, an angel who has left the safety of the Light, that she learns of the evil forces that have been trying to ruin her, and why. A fierce battle for control of the mortal realm is brewing, and only Celeste—with the help of the
Remnant,
her half-human, half-angel brethren—can stand in the way. Together, Celeste and Azrael must gather an army of sensitives to defeat the dark powers that have ruled humanity for centuries, but time is running out. If Azrael surrenders to his growing desire for Celeste, he risks being trapped among humanity forever. But the longer he stays, the harder she is to resist. To save the world, Celeste must draw on her own dark experiences with addiction to help Azrael overcome the one temptation that could possibly make him an eternal prisoner—his obsession with her.
Plain Jane:Brunettes Beware
By Cristyn West
From Glenn Skinner:
Plain Jane is a roller coaster ride full of twists and turns that keep you second guessing everything you'll read and perceive. The story revolves around Kent Harbinger a brilliant FBI profiler who for lack of a better description, teetered the fine line between genius and insanity a little too long, falling long ago onto what side of it, even he doesn't know. With the help of Detective Nicole Usher and hindrance of her partner Ruben Torres. You are taken into the mind and world of a serial killer in a race against time to find and apprehend him before he kills again. The Author skillfully manipulates the reader through a never-ending series of heightening suspense and misdirection. Just when you think you've figured it out, you find you were totally wrong. The past triangle of relationships between Kent, Nicole and Ruben only heighten the tension and complexity of the story.